1920s HILLERICH'S Youth CRACKERJACK No 02 RARE Vintage Baseball Bat 28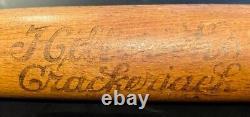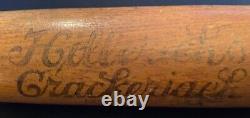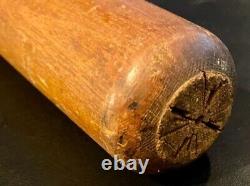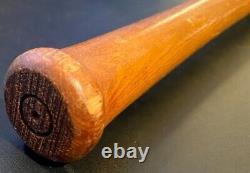 1920s HILLERICH'S Youth CRACKERJACK 28 RARE Vintage Baseball Bat No 02. Rare Hillerich's Crackerjack 28 small, youth bat. Not often found but is listed in 1920s Spalding catalogs. The bat displays beautifully with blonde color and is in EX condition.
Please message me for additional photos, questions, listing discrepancies, etc. And I will answer with 100% honesty. Bat is in EX condition!
Very tight grain, uncracked, smooth and solid over its entirety. A few dings, scuffs, scratches but not many at all. Knob is small and mostly smooth with some slight scuffs/dings on edges. It does have center lathe marks with circles.
Center Brand is ink stamped and 80-90% visible. Barrel End is in VG shape with some dings in very middle with lathe circle and some other cross marks but is mostly smooth on the circumference.
Handle is almost perfect with a few scuffs... Overall, bat is in VG/EX condition and is a RARE Brand/Label to own!