Grateful Dead Shirt T Shirt Vintage 1996 Baseball Hat Bat MLB Tim Harris GDM XXL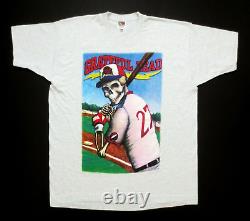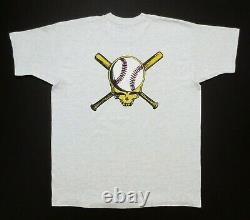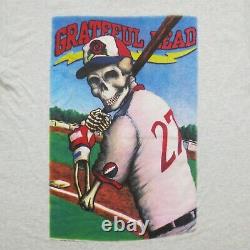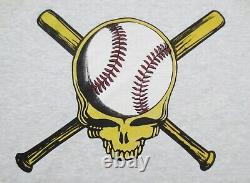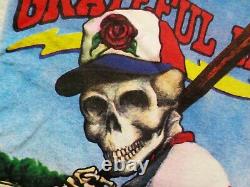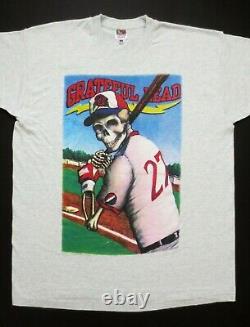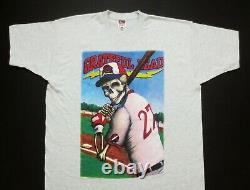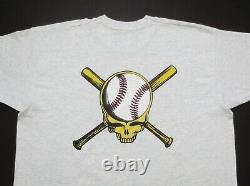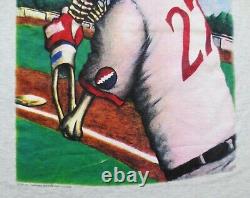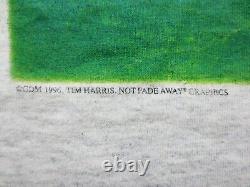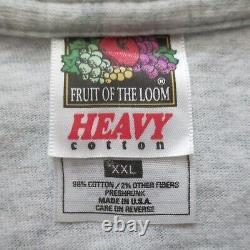 Grateful Dead Shirt : Vintage Original (Genuine / Authentic) : 1996 : Grateful Dead Skeleton Baseball Player! " : Grateful Dead Spring Tour 1992 Access All Areas Backstage Pass " Laminate Art Design! Tim Harris Grateful Dead Laminate Art!
Tim Harris - Not Fade Away Graphics Grateful Dead Merchandising, Inc. (GDM) / Tim Harris (TH - FLD) / Not Fade Away Graphics (NFA) : Double Extra Large (XXL) : Brand New! " Mid-'90's Era " Grateful Dead Baseball Shirt!! From the Mid-'90's Era!
- the 1996 GDM / NFA Sports-Meets-Dead! Skeleton Baseball Player Art based on the Legendary! Grateful Dead Spring Tour 1992 Access All Areas Backstage Pass Laminate! And Fans of Tim Harris Grateful Dead Art Designs!!! Dead Shirt for the Baseball Fan!
As this one is kinda like a Deadhead! That you can wear & Rock!
You sure can never-ever beat it with Grateful Dead-Meets-Sports! Art Designs - and, this-one represents Baseball!
And, despite the pure " Visual " Awesomeness! Of this 1996 Dead Shirt! Nature of this Art Design might just even make it More! As this Grateful Dead Skeleton Baseball Player... Is an Art Design by the one & only Tim Harris! " Art Designer of Grateful Dead Backstage Pass " Laminates from the Mid/Late-1980's through the Mid-1990's Grateful Dead' Live' Touring-Era! And, way back in 1992 - now over 30-Years Ago! Designed the Art for one-of the Most Sought-After Fan Favorite!
- right on the front of the now Legendary! Grateful Dead Spring Tour'92 " Access All Areas " Backstage Pass Laminate! As in a lot of ways... This Art Design was one of the Laminates that every G.
Fan & Collector wanted - and basically... And, due to the overall " Popularity " of this Historic G. Baseball Laminate Art Design at least I'd have to assume...
This bare-bones Art Design was issued by Grateful Dead Merchandising / Not Fade Away Graphics Tim Harris Art Credit! Grateful Dead " Baseball " Art Design could be literally Worn!
- and, not just Collected with the rest of the Baseball Cards. For the Grateful Dead Sports & Baseball! And, as for this Tim Harris Art Design... Baseball Dead Shirt shows a Cartoon-like Image of a Grateful Dead Skeleton!
And, if you've noticed - which, I'm sure you did... This Skeleton Batter is not inside the Batter's Box!
He is standing & Posing! Over next to the 3rd Baseline! -- just kind of like one of those Cheesily-Awesome!! Baseball Cards from the 1970's Era!
You know - all of you Baseball Card Collectors out there... The ones where the Dude with the scruffy-stylish long-hard & often bearded Dude the MLB Baseball Player! - would just grab a bat, any bat... And would do a Cheesy-Pose!
Which, then naturally would be made into a Baseball Card! - which, you & I would Collect! And Thankfully this isn't a' Billy Ripken' Orioles! Dead-Skeleton as nothing " Humorous " was written here on the end of his Bat! -- as you can't' actually' see the barrel of the Bat?? Just a few fun " Inside Jokes " here - which, I'm assuming you'll Get! - if you've read on this far. This-One to the Home Ballpark!
Of your choosing & let the Compliments! Nothing Left To Do But Smile!
- and also letting Everyone-Else out there know that... This is a Brand New Vintage Original Collectible-clothing item from 1996 in Excellent condition Collected-Only! Shirt Size : Double Extra Large (XX-Large / XXL / 2XL)/ Fruit of the Loom Heavy Cotton 98% Cotton / 2% Other Fibers / Preshrunk / Made in U. Pit-to-Pit = 27.5" Length = 32" As this is a brand new vintage-original collectible shirt - here are the only issues that stand out to my eye upon very close inspection : >>> light cracking of design image emblems from long term storage & natural aging (please see photos/close-up photos). >>> one (1) teeny/tiny hole through the fruit of the loom shirt back tag (on the XXL) - not on the shirt material fabric (please see photos/close-up photo #12). Please see all photos provided..