Vintage 1916 -1923 Hillerich Bradsby Playground Center Oval Baseball Bat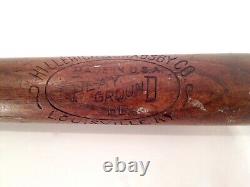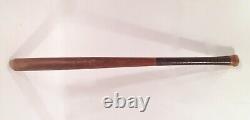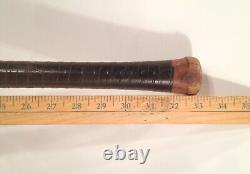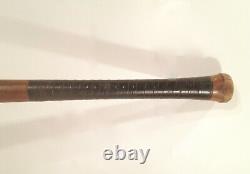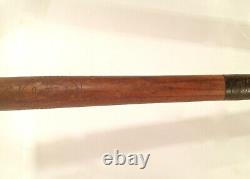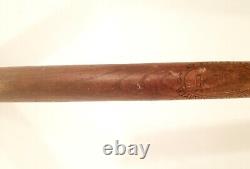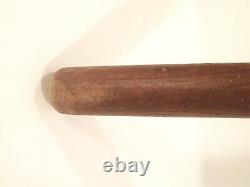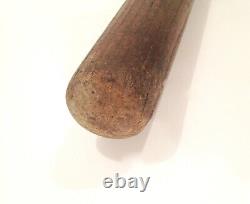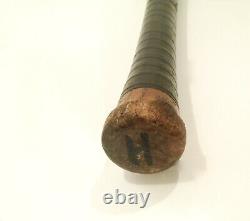 AS SHOWN Vintage 1916 -1923 Hillerich Bradsby Playground Center Oval Baseball Bat. ACQUIRED FROM AN ESTATE LIQUIDATION. DON'T KNOW ANYTHING ABOUT BASEBALL BATS.
FOUND A WEBSITE WITH SOME GOOD BAT INFORMATION. BEFORE 1932 THE NAME OF THE BAT MODEL. WITH A CATALOG NUMBER BELOW IT. APPEARED IN THE CENTER OVAL. IN 1916 BRADSBY WAS ADDED TO THE COMPANY NAME. AS SHOWN THIS BAT HAS THE BRADSBY NAME ON IT. AROUND 1923 THE WORD "PLAYGROUND" WAS. FROM THE CENTER OVAL DOWN TO THE BARREL OF THE BAT.
AS SHOWN THIS BAT HAS "PLAYGROUND" IN THE CENTER OVAL. FIRST TIME IN THE CENTER OVAL IN 1932.
BUT DO BELIEVE THIS BAT WAS MADE SOMETIME BETWEEN 1916 & 1923. THIS WILL BE A NICE ADDITION TO YOUR BAT COLLECTION. PLEASE LOOK AT THE RULERS IN THE PICTURES. PLEASE USE THE ZOOM TOOL TO LOOK AT ALL OF THE PICTURES.
PLEASE READ THE TERMS OF SALE THEY ARE IMPORTANT. HIGHLY UNLIKELY THERE WILL EVER BE MANY OPPORTUNITIES TO ACQUIRE THIS. BE REASONABLE AND IT'S YOURS! YOU'LL NEVER KNOW WHAT I'LL ACCEPT IF YOU DON'T MAKE AN OFFER... THE TERMS OF SALE ARE LISTED BELOW PLEASE TAKE THE TIME TO READ AND UNDERSTAND THEM!
PLEASE ASK IF YOU HAVE ANY QUESTIONS! PLEASE UTILIZE YOUR KNOWLEDGE TO INSURE YOUR OWN PURCHASING SATISFACTION! PLEASE SEE PROVIDED PICTURES THEY WERE TAKEN USING FIVE 300 WATT LIGHTBULBS! MANY DIFFERENT VIEW ANGLES ARE SHOWN AND ANY DEFECTS ARE VERY EASILY SEEN!
THIS IS AN ESTATE LIQUIDATION ITEM THAT SHOWS SOME WEAR SCUFFS, SCRATCHES ETC ETC AND MAY NEED CLEANING!! ANY CLEANING NEEDED IS FOR THE NEW OWNER TO DO! THANKS FOR LOOKING AND HAPPY EBAYING TO YOU!!